Luminary Wedding Cake FAQs
What is the lead time for your wedding cakes?
A minimum of 14 days prior to the wedding date, but the earlier the better as we book up quickly during busy seasons!
Can we have different flavours for each tier?
Absolutely! We love your creative thinking. We would advise choosing two similar sponge colours if you would like a consistent cake colour through the icing.
It is useful to note that if you are planning a vegan tier, our vegan buttercream is a different colour from our normal buttercream. Options for this would be to have your whole cake decorated with vegan buttercream to ensure consistent colour, or to have a separate single tier for your vegan friends.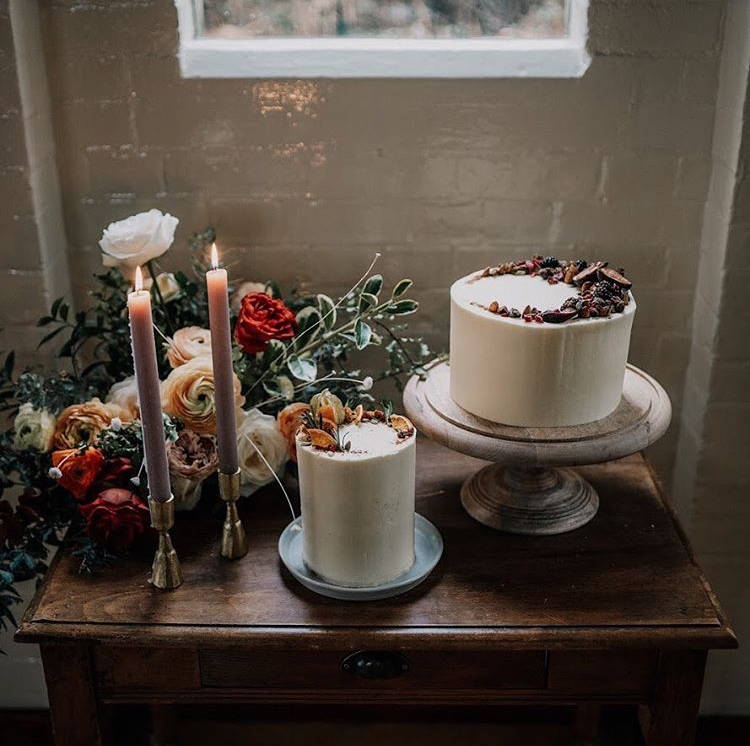 Do you deliver?
We can absolutely deliver your cake. This can either be on the day or the day prior to your big day. If the day before, please ensure that your venue has the ability to refrigerate your cake until it is required.
Delivery is subject to courier costs, as a small (but growing) bakery, we do have to pass this cost directly to customers.
Do you deliver outside of London?
We have recently been branching out and delivering further afield. For this, we use a company called Rock Solid Deliveries - you can check out their fantastic blog on delivering a three-tiered cake to Dundee!
Delivery outside of London begins at £100.
How long should my cake be left out?
We absolutely understand that you would like your guests to see your stunning cake before it is gobbled up. We would advise that your cake can be left out for four hours before being cut up and served. This should give you enough time to have your cake on display during your dinner and cake cutting, without compromising on freshness.
Do you supply cake stands/knives?
We do not.
What size are each of your cakes, I need to know for my cake stand?
Single Tier Cakes
Small (6 inch):

20 finger portions, 10 dessert portions

Medium (8 inch):

40 finger portions, 20 dessert portions

Large (10 inch):

60 finger portions, 30 dessert portions
Two Tier Cakes
Small two tier cake (6 inch, 4 inch) serves 30 finger portions, 15 dessert portions
Medium two tier cake (8 inch, 6 inch) serves 60 finger portions, 30 dessert portions
Large two tier cake (10 inch, 8 inch) serves 100 finger portions, 60 dessert portions
Three Tier Cakes
Medium three tier cake (8 inch, 6 inch, 4 inch) serves 70 finger portions, 40 dessert portions
Large three tier cake (10 inch, 8 inch, 6 inch) serves 120 finger portions, 60 dessert portions
What are the different portion sizes and what do they mean?
We measure our serving sizes in finger portion or dessert portions. This is just a guide to your caterer for how big to cut your cake slices on the day, and a sizing guide for us.
Does my cake come pre-assembled?
Yes, if you have ordered a tiered cake then this will come assembled and you/your caterer do not need to assemble the tiers.
If I choose Beautiful Blooms design, can I have my wedding flowers?
We work with a lovely local florist who can normally match wedding flowers, subject to seasonality.
We have previously had brides drop in their flowers the day before for us to assemble, or you can purchase one of our Naked Buttercream Cakes and if you ask your florist they can normally offer to add these to your cake!